Best Web Series 2018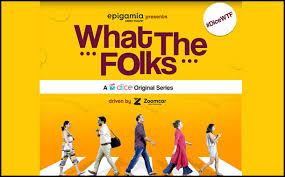 Best Web Series 2018
Dice Media- Pocket Aces Pictures Pvt Ltd
The Campaign
'What The Folks' encapsulates the familial struggles of Nikhil, a young man who is forced to live alone with his in-laws for a few weeks. Nikhil's bittersweet interactions with his wife's family provide for humorous situations that will be highly relatable to today's youth. WTF! is a journey of how modern families are breaking stereotypes, overcoming generation gaps, and growing to love one another, in spite of often having starkly different worldviews.
The Idea
'What The Folks' is a slice-of-life dramedy that every young person and their family will relate to. The show captures the various moments of love, laughter, joy, and occasional dysfunction that we all face on daily basis. While it breaks several stereotypes, the characters and situations are familiar and relatable to viewers across age groups with fans of the show watching it from across the globe, young millennials to the older generation alike.
They say there are umpteen number of shows about the stereotypical daughter-in-law, but 'What The Folks' changes up that setting and puts a twist on that equation to understand the experience of today's modern Indian son-in-law.
The Execution
Dice Media is Pocket Aces' long form storytelling platform, through which the company conceptualizes, creates, and distributes web series. 'What The Folks' was produced, scripted, shot, directed, edited and released – the whole process being completely in-house. Directed by two time National Award winner, Ruchir Arun, the show has been written by Anand Bhardwaj and Ayesha Nair. The series stars vastly popular digital actor Veer Rajwant Singh as the son-in-law Nikhil. He is joined by veteran film and television actors, Vipin Sharma (Gangs of Wasseypur, Taare Zameen Par) and Deepika Amin (Fan, Humpty Sharma Ki Dulhaniya), who play the father-in- law and the mother-in- law respectively. The key cast is rounded off by talented film actors, Eisha Chopra (Neerja, Aligarh) and Anula Navlekar (Brahman Naman), who play Nikhil's wife and sister-in- law respectively. The music in the series has been created by Neel Adhikari, a well-known independent musician, who also composed the immensely popular original soundtrack of 'Little Things'.
The Result 
The web series was a smash hit: it became one of the best performing shows of 2017 with over 23 million views across Facebook & YouTube and a high engagement rate. It's success have resulted in the show being renewed for a Season 2 on popular demand. The series has already won Silver at Talentrack awards and has been nominated at the Rome Web Awards.
To view the campaign video:  https://www.youtube.com/watch?v=ZFV-sju3UEk&list=PL4x7Of-X4Xhi_vC16hqka27e4M1zS_I3M
If you, too, have executed exemplary campaigns in the last year, go ahead and submit your nominations for the Industry Awards. Visit our Events section for details on our upcoming Awards and Conferences.
https://www.inkspell.co.in/events/
Let's Connect!