Best Performance-driven Mobile Campaign 2018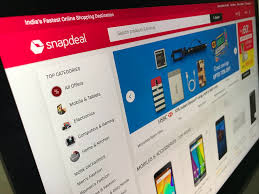 Best Performance-driven Mobile Campaign 2018
Re-igniting Affiliate programme for Snapdeal
The Campaign
Snapdeal has been using multiple digital media channels for acquiring new customers and beating competition. Reaching to tier two cities was challenging.
Snapdeal had shut their Affiliate Campaign for close to 6 months which used to be run by their in-house team. The main objective was to restart affiliate program with better ROI. Snapdeal chose SVG Columbus to manage their affiliate program exclusively.

To run mobile app campaign on CPT basis.
The Idea
5 points Columbus frameworks was implemented for Snapdeal which included the following:
"Strategy": To run fraud free campaign on device level with lower Cost of Acquisition.

"Tracking, Integration, Monitoring & Reporting" to have transparency and better monetization of campaign for both Client and publishers.

Implemented "Publisher Relations, Development & Processes" to increase number of quality publishers.

"Creatives & Communication" for better conversion rate.

"Scaling & Optimization" Overall campaign improvement on web CPS and launching app CPT.
Campaign Innovation
SMS and notification

By increasing number of publishers weekly they can monitor performance on publisher level.

Making strategy around festivals and events to bring more user attention.

Syncing affiliate promotion with other digital promotions to increase conversion rate.

Monitoring user behaviour throughout the day and pushing promotions during peak hours.
The Execution
To grow affiliate as a channel for Snapdeal and spread reach utilizing overall affiliate funnel.

Tracking, Integration, monitoring and reporting.
Making a robust technology and platform to provide full transparency to the client and publishers.

Integrating order ID wise report and transaction status after 30-60 days of validation.

Setting up Mobile app campaign on CPT.

Tracking – clicks, sales in order to monitor and improve quality.

Automated earning report for smooth running of publisher activities.
       3. Publishers Relations Development & Processes
Reaching to publishers who work with SVG and have worked with Snapdeal and quick starting campaign with them.

Building relationship with publishers who worked with Snapdeal and are new to Columbus.

Leveraging strong relationships with existing set of Columbus affiliates to start Snapdeal.

Providing best technology and guaranteed payment cycles.

Special promotions with affiliates

Extended In-house Capability of retargeting users for better engagement.

On-boarding app publishers and negotiating CPT and not install campaign with them.
       4. Creatives and communications
Product feed integration and distribution.

Integrating banners, emailers and other creatives on the panel. Also sending customized creatives to affiliates for special activities.

Content compliance with publishers.
      5. Scaling & Optimizing
Adding more publishers each week/month.

Growth in numbers by providing better Account management services to current publishers.

Publishing offers and creatives on premium placements to get better Conversion rates.

Going live with app campaign to increase app transactions.
       6. Affiliate Engagement and Types
Targeting Bloggers and Influencers to create niche content and increase brand influence and visibility.

Visibility on Product and Price Comparison engines so to kill competition and giving brand visibility. Beating Competition was main goal here.

Email, SMS and notification – Adding others channel so to improve and recall existing customer base by showing them "what's new" on Snapdeal.

Deals and Coupon Websites – Not only promoting deals on the website but also adding premium placements like banners, side pop-ups, email on these platforms to increase conversion rate.

Adding loyalty and cashback website and their most premium placements in the funnel to increase conversion rate among users.

Identifying app affiliates to focus on app sales.

The Result 
On boarded 200+ quality Publishers for the campaign.

Contributing 10% of overall sales through affiliate as a channel.

Transaction growth of 500% in 5 months.
If you, too, have executed exemplary campaigns in the last year, go ahead and submit your nominations for the Industry Awards. Visit our Events section for details on our upcoming Awards and Conferences.
https://www.inkspell.co.in/events/
Let's Connect!