Best Social Impact StartUp in Digital 2018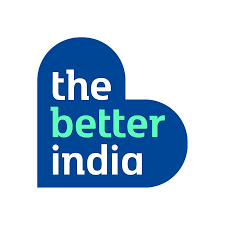 Best Social Impact StartUp in Digital 2018
The Better India
The Campaign
The Better India is Asia's largest impact-media platform that reaches 50 million people every month. They have changed the discourse in journalism, moving it from what's not working to what is.
They do this by sharing stories about India's most inspiring individuals and empowering the audience with simple ideas to make a difference in their own lives as well as to impact the society at large! They are committed to showcasing constructive work being done in India and thereby advancing the impact ecosystem at large.
Growing at 400% year on year, The Better India has built a community that is digitally evolved & socially conscious. The Better India's audience is affluent, influential & highly engaged, making advertising with us a lucrative opportunity for brands. Having engaged with over 200 brands so far, they have created web series, articles, social content and delivered meaningful brand stories as well.
In a span of one year, their campaigns have won awards at Abbys & The Maddies, most recently.
With a social-first approach, The Better India has built a powerful social presence with communities, spanning across Facebook, Twitter, Youtube, Instagram & LinkedIn. They have stayed truly ahead of the curve:
1.    With their weekly engagement numbers:
When they derive the audience base to engagement ratio and measure it against other relevant digital platforms, TBI turns out to be the leading platform
    2. With their video views ranking:
The Better India is amongst the Top 3 video platforms in this category, clocking an average of 30 Million video views every month!
From 1 Million in 2015, The Better India now clocks in 10 Million Unique Page Views every month the website. With a mobile-friendly navigation, they have been able to meet the needs of a growing audience reaching The Better India via mobile too.
The Idea
India's only "Impact-Media" platform, The Better India uses the power of technology, media & storytelling to deliver Positive News. Theiir biggest USP and in the process they use to promote sustainable ideas, initiatives & products to drive impact.
The Better India is not limited to inspiring people, they help their audience turn that inspiration into impact and fuel the circle of positivity.
The Execution
2017 – 2018 have been the years dedicated to driving growth, scaling up the reach and establishing The Better India as a leading player in the digital news & impact ecosystem. 
I – Scaling Up – Niche to Mass – The exhilarating journey
The Better India identified unique storytelling formats and themes and dedicated resources to build their research & content development capabilities.
Farming, Small Businesses, Home Gardening, Competitive Exams & Local Governance, Alternative Professions & responsible shopping were the news pillars established apart from innovation, unsung heroes, women, and changemakers — they spoke about these and more.
In parallel, a lot of investment was made towards building our talent for developing video content.
All this has helped them improve their overall content output, and this has happened in this year alone. They have covered over 10000 stories of change, served over 3 billion impressions of positive news, taken their monthly social reach to 60 million, allowing us to clock in over 10 million-page views & 25 million video views every month.
With a 50-member team across 4 cities, The Better India has disrupted the field of media, driven large-scale impact, set new standards for content marketing, all while being profitable and achieving massive growth!
II – Brand Building through Impact
Every story published on The Better India is changing lives, empowering people, transforming perspectives and making a real difference on the ground.
For every campaign, they use their storytelling capabilities and drive the audience to crowdfund change!
Steps for these include talking to different communities to understand the problems people are facing in day-to-day life and coming up with solutions for the same. They create content around these issues to increase awareness about the same and help their readers understand them better so they can make the choice to contribute and become changemakers, impacting hundreds of lives in the process. For this, they use their wide reach on various social media platforms in a way that readers can know more about the people behind various such problems that many talk about. Here are some examples of the kind of impact their work has created this year.   
In the past, they have organised large-scale campaigns with the vision of coming up with solutions to different issues. These include campaigns to help a social entrepreneur take his business idea to 100 million people around the world and driving massive sales for him! They have helped children living on the streets of Mumbai gain education, crowdfunded an ambulance for street animals, helped farmer widows set up sustainable businesses, planted millions of trees, transformed villages, helped villages get electricity for the first time ever & more.
1. Helping an Eco-friendly Business make Crores
When Narayana Peesapati became aware of the harmful effects of plastic, not only to the environment but also to our health when used as cutlery, he was stunned. But he did not stop there. He came up with a solution that most of us wouldn't have thought of, and actually made it happen! He was out to make a change. He wanted to fight the spectre of plastic pollution by painstakingly developing an edible spoon. However, he was not getting business. This is when The Better India reached out to him and shared his story with the world with the help of a video. The video went viral and people from across the world reached out to him. Mr. Peesapaty received more than $1Million worth of business, and his innovation can now create a huge paradigm shift!

2. Fight Drought in Tamil Nadu
A campaign organised by The Better India to restore two ponds in Nagapattinam – one of the worst drought-hit districts in Tamil Nadu. The mission behind the successful campaign was to fight drought with a water body restoration campaign that would focus on cleaning, desilting, deepening and restoring the two ponds. They managed to raise INR 10L in 3 months and thousands of people in that district can now access water.
3. Bringing light and water to a village
Pimpaldhara, a village in Maharashtra, did not have electricity and the nearest water source was at least an hour away by walk. With a special series, The Better India raised money and installed solar streetlights & built a borewell in the village school.
4. Setting up sustainable businesses for widows of farmer suicides:
Thousands of farmers have committed suicides in the drought-prone regions of Maharashtra due to rising debts. In the aftermath of these suicides, the people who suffer the most are the families left behind. With its campaign, The Better India decided to support the wives of these farmers (who are in most cases illiterate and not skilled) and to skill and train 35 farmer widows. Today, these widows are running sustainable businesses such as tailoring and tiffin-delivery.
5. Changing the life of a boy with a terminal illness:
Tarun, from Happy Feet Home, is a young boy who is HIV positive. The Better India created a video on Tarun's Bucket List, and the top-most item on his list was to become a DJ. The video was viewed by many and this led to the True School of Music offering him a free scholarship to learn DJ-ing skills!
6. Bringing an extremely poor farmer out of poverty
Vithoba was a poor farmer in abject poverty. The Better published a photo of him tilling his land with his cot – and that got our readers to help him out immediately. Vithoba received money and a plough and two bullocks from our readers!
7. The Better India raised funds to help two doctors perform heart surgeries on underprivileged kids suffering from congenital heart diseases.
8. After a student saved a trekker's life in Ladakh, he wanted to meet him. The Better India made that possible.
On July 8, 2016, Bidhan Shrestha, a 19-year-old engineering student of Nepali origin studying in Bengaluru, went on an expedition to Stok Kangri in Ladakh. Just a few hundred meters before the summit, he saw a fellow climber falling 15-20 meters off a cliff. Bidhan was carrying a fully equipped first aid kit with him, and took out pretty much everything he had to stop the bleeding. Once the rescue team arrived, Bidhan decided to scale the summit. However, since they parted ways at base camp, Bidhan hadn't been able to track Udesh even on social media.
After they published this story and a video on the same, a reader of theirs, Bansi Haria Shah tagged her brother, Utsav Haria feeling that this story closely resembled her brother's life. Her brother quickly confirmed that it was him who was rescued that day on Stok Kangri. We reached out to Utsav to get his side of the story, and it turns out that Bidhan had gotten his name wrong. They are happy to share that the two have gotten in touch.
""The article and video really made a huge impact on me. And the best thing was that we were reunited again. I'm very happy to get in touch with him and his family after years. Soon after the article was released, people began to thank me for what I did and wished that I'd find him soon. All my friends started to share it too and they were all proud of that. I got a lot of positive response from the viewers and wished me a good luck for a bright future," informed Bidhan.
9. Feed the Needy:
The Better India organised the #FeedTheNeedy campaign on World Food Day, in association with Robin Hood Army. Hundreds of people contributed to the campaign and helped us serve about 250 meals in one day, to those who needed it the most.
10. The Time a Doctor Received Enough Donations to Start a New Hospital:
On May 1, 2011, Dr. Swapnil Mane (MBBS, MD, DGO, FCPS, MD—Oncosurgeon) started his journey towards fulfilling his dream of making cancer treatment affordable and even free if necessary, for the needy in India. He inaugurated the Dr. Mane Medical Foundation and Research Centre, a national, social, secular NGO which stands committed to cancer control, at village Rahuri, district Ahmednagar, Maharashtra. The Foundation is one of the few medical foundations in India, which has been recognized by the Scientific and Industrial Research Organization (SIRO), Department of Science and Technology.
Once an article about his work was published on The Better India, the foundation received a lot of donation and support. So much that it was enough for him to plan and start a hospital.
III. Meaningful Advertising
They have successfully delivered over 200 brand campaigns, creating meaningful & engaging content. Here are a few –
Breaking Barriers with Brooke Bond Red Label
They launched a 5-part web-series in partnership with the brand around the theme of togetherness and showcased real-life stories of individuals and communities breaking barriers, to set an example about inclusion in India. The idea was to add authenticity to the larger, overarching value that HUL legacy tea brand stands for – Bonds are built, barriers are broken over chai!
They won the Best Branded Content Award at Abby's for this campaign.
MGChangemakers with Morris Garages Motor India
MGChangemakers recognized 6 inspiring women Driving India into the Future! UN Women officially came on board to support this initiative, turning this into an honour that will recognize women change-makers every year. They held an offline event-plus-award where Nandita Das awarded each of these women!
As one of the world's most celebrated car brands, MG is poised to extend its proud legacy to the Indian roads with a clear vision to build the 'next generation automotive company', while also empowering people & communities, creating experiences, innovating and ensuring diversity.
MGChangemakers helped them meet those goals for the brand and they recently won the Marketing Strategy Award at The Maddies for this campaign.
The Result
Some Awards Recently Won by The Better India –
1) Abby's 2018 – Best Non-Fiction Series (Breaking Barriers)
2) The Maddies 2018 – Best Marketing Strategy (MG changemakers)
3) Tomorrow India's Rising Star Award winner
4) Winner of Marico India Innovations Awards
3) Sankalp Forum Grand Prix Winner
4) Social Media for Empowerment Award
5) Manthan Award for Best Alternative News Site
6) Founders featured in "CNBC Young Turks"
7) Founders invited to speak at the Harvard India Conference to talk on "Disruption in Media"
8) Founders invited for Facebook Speaker Series to talk about "Social Media For Good"
(Testimonials Link in Bio)
Celebrities like Adil Hussain, Nawazuddin Siddiqui, Lisa Ray, Dia Mirza and many other veterans from the public policy, journalism and impact space have been their followers and have shared some amazing thoughts about The Better India!
To watch the campaign video: https://youtu.be/t32OedJbtbg
If you, too, have executed exemplary campaigns in the last year, go ahead and submit your nominations for the Industry Awards. Visit our Events section for details on our upcoming Awards and Conferences.
https://www.inkspell.co.in/events/
Let's Connect!
[email protected] | 7863851515