Best Online PR Campaign 2018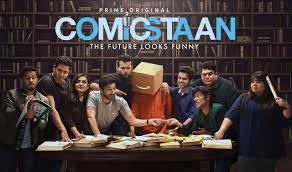 Best Online PR Campaign 2018
lnfluencers ke Saath #Fun in Comicstaan
The Campaign
*When 9 comedians come together, toh kuch hungama hoga naa, aur shor  bhi machega. Par yeh shor machayega kaun? Influencers!
*The real challenge was choosing the right influencers since the 9 comedians were big influencers already in their own right. So, they had to choose wisely to maximise their reach. Since their comedians were highly male focused, they went with a more female demographic influencers to make sure they are covering the whole spectrum of their TG.
*Another hurdle was driving engagement organically & to make the influencer posts look & feel organic. Their audience is quite an evolved set & very savvy with what ways brands use to advertise. All their influencer content was made to look as organic and as true to them as possible. No swipe ups, not many hashtags, no brand mandates – they let them do what they do best, create content.
*Other than their show, they also gave their community something to talk about with their GIFs, giving their audiences' everyday conversations to keep the campaign and the communication going.
The Idea
*Comedy is usually perceived as a male-dominated liking, so they chose influencers across genres: fashion, lifestyle, youtubers and focused strongly on women to tap the untapped market.
*Their show content was engaging, so they had that really going for them. But other than that, they created engaging GIF stickers with their show talent and got influencers to subtly push them out.
*They used influencers to drive people to watch Comicstaan, use Comicstaan GIFs and to help build a stronger community overall.
The Execution
*With no brand mandates and lesser swipe ups, they let the influencers create content for their followers.
*Did a variety of posts, customized to suit each influencer, using Insta features & doing multiple Insta stories to make the campaign look as organic as possible and ultimately drive more engagement.

*They left scheduling the posts at the influencer's discretion but made sure that majority of posts were happening between Friday to Monday, the timeline of a new episode launch, thus resulting in a reach of more than 50% every week.
*Apart from the show content, they also created engaging GIF stickers with their show talent and got influencers to subtly push them out – so that their followers had something related to the show to engage with.
*The users engaged so much with their GIFs, that it reached David Beckham and he used one of their GIFs himself!
The Result
*26,000 + taps on Comicstaan GIFs.
*15,000 + swipe ups to watch our show.
*Overall, they got an above 15% engagement rate across all influencers against an average industry standard of 10%.
To watch the campaign video: https://drive.google.com/file/d/1SAQQ_hcdw8RN1EL9PQ-rdYm5EE-thmrh/view?usp=sharing
If you, too, have executed exemplary campaigns in the last year, go ahead and submit your nominations for the Industry Awards. Visit our Events section for details on our upcoming Awards and Conferences.
https://www.inkspell.co.in/events/
Let's Connect!
[email protected] |  7863851515